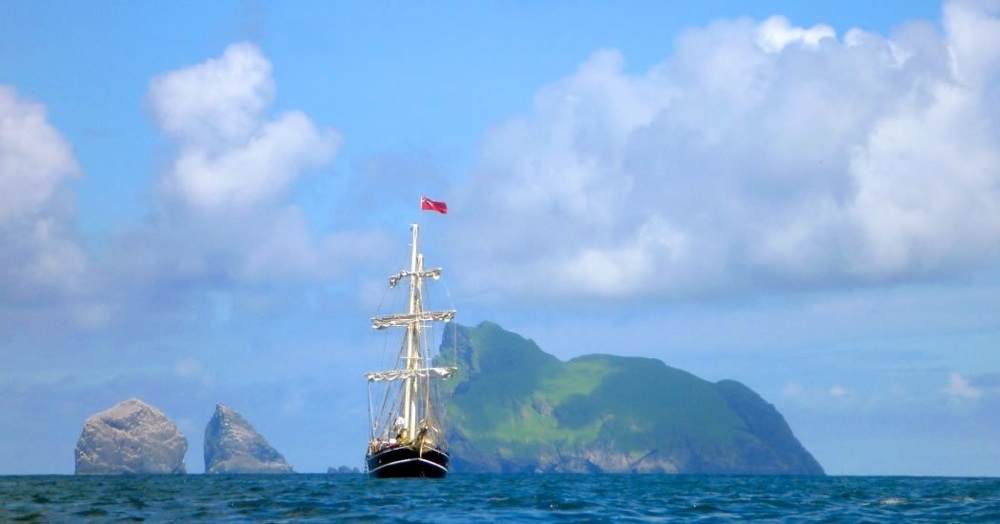 A Shared Voyage of Adventure
Under the pressures and distractions of everyday family life it can be hard to find opportunities to really give attention to each other as individuals. At home there is a lot going on, other relationships to think about and sometimes an element of competition with other siblings. One to one time between a father and son, away from the rest of the family, is a rare and special pleasure and it is all too easy to let a whole year go by without making time for this. Just imagine the fun of a whole week devoted to exploring a fantastic wild environment in the company of that particular person? Not just a holiday – but a voyage on a tall ship crewed by people with similar aims and under the guidance of experienced professional sailors, adventurers and facilitators.
The Voyages
What we offer is a voyage of adventure! For sons between their 12th and 18th birthdays, with their fathers. It takes place on a traditional, square-rigged sailing vessel of great character and in a wild and remote area. You will be part of a crew of up to twelve with a Skipper, Mate and Bosun to guide you as you learn to sail the ship.You will spend six nights together making a journey of exploration, learning to work the vessel, steer, raise sail, climb the mast, knot and splice ropes, navigate, cook, stand watches and experience the wild world at hours determined by the tides rather than the clock or the TV schedule. Nights will be spent at anchor in remote bays, immersed in natural surroundings where the artificial world is seen as distant lights or not at all. There'll be opportunities to share tales of your own adventures and those of the great explorers of the past. On the morning tide you will haul up the anchor and continue the voyage.
There will be times of intense activity as we tack the vessel against the wind (maybe in wild weather), working closely as a team to manage ten or more sails at the same time, times of relaxation, times of laughter, and time to talk over good food cooked for each other, chances to work and spend time with other crew members. There will also be many opportunities for reflection and to spend time alone or as a pair.

'Lady of Avenel' – Inner Hebrides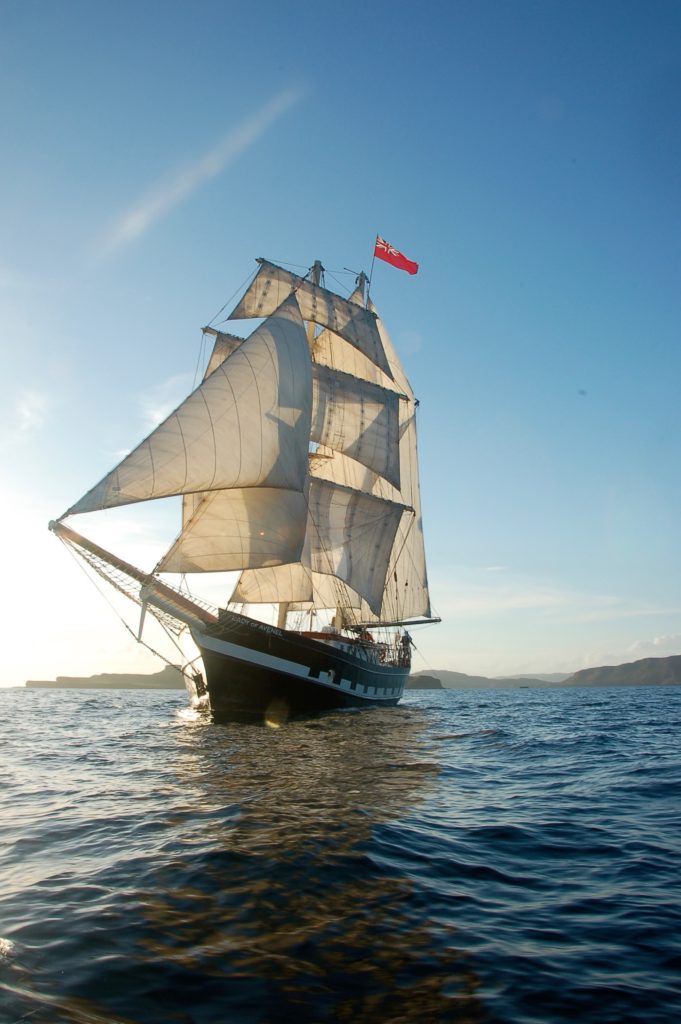 Based at Oban on the beautiful West coast of Scotland. She is a Brigantine; this means she has two masts, with square sails on the foremast. Though she has an engine we try to use it as little as we can; sailing a traditional square-rigged ship is a complex challenge involving close coordination between the crew members. Furling or unfurling the sails can involve climbing the mast and going out along the yards (you'll wear a safety harness). We will make a voyage through these wild islands, perhaps landing on shore to explore beaches or caves, ascend a mountain or bivouac on the beach. We have a good chance of seeing seals, whales, sharks, otters, dolphins or eagles.
Dutch Tjalk 'Volharding' in Scotland
Some voyages are run on 'Volharding' which is a Dutch 'Tjalk' sailing barge. She is a fantastic vessel; over 100 years old, she is longer and faster than Lady of Avenel with comfortable accommodation and great character. She is sailed in the Dutch seagoing trading barge tradition with a shallow draught hull and leeboards which serve the purpose of the keel of other vessels. This means that she is very maneuverable and can cross shallow patches and get into confined anchorages. With her two tall masts and bowsprit she is a thing of beauty and draws plenty of attention from other vessels. As with the lady, we try to use the engine as little as we can and plan our voyage to make the best of the weather.
Lads and Dads Adventures
The link between a son and his father is powerful and lifelong and we would all like it to be as good as it can be, yet it can be difficult to spend uninterrupted time together. Men especially are drawn to adventure, yet in our increasingly cautious world it is a challenge to learn the skills which would allow us to head out into the wild. In a modern society where all-male environments have almost ceased to exist, it can be very difficult for young men to learn about healthy masculinity in the company of older men. Our adventures provide this opportunity by:
-Getting away together for a voyage of adventure in a like minded all-male group and under expert guidance.
-Enjoying each other's company one to one for a few days away from ordinary life.
-Facing challenges that are new to both of you, learn new skills, solve new problems, work, relax and laugh together and come away with a richer and stronger connection.